Reichstag and Government District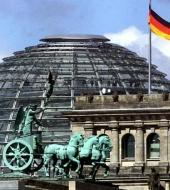 Enjoy a 2-hour guided tour of the parliament and government district in Berlin with a visit to the glass dome in the Reichstag building. Learn interesting facts about the history, architecture, and politics in the center of Berlin along the way.
Description:
Discover a piece of political history on this tour through the parliament and government district in Berlin. This tour takes you from Pariser Platz to the government district, past well-known buildings such as the Hotel Adlon and the Brandenburg Gate. At the Brandenburg Gate you can step over the former border line and learn more about the intricate course of the Berlin Wall around the Reichstag building.
You'll then head into the Reichstag building to visit the glass dome, where you'll learn more about the work of the parliament. Hear about the fascinating history of the Reichstag building as well as its revival and interesting ecological concept in the new design by the British architect Lord Foster.
Experience Berlin from the top of the glass dome. Admire the city skyline and learn something new about the city's past and present history.
What's Included:
• Tour
• Registration for a free visit to the glass dome in the Reichstag building
What's Not Included:
• Transport to the meeting point
Good to Know:
The visit to the Reichstag dome is free of charge. When booking, please provide the following information for each participant:
- Full name
- Date of birth
On certain dates, you can choose to combine your Reichstag dome visit with a visit to the plenary chamber, as well as a free lecture by the German parliament. If you opt for these additional features, your tour will last an extra 30 minutes. You will receive all the relevant details ahead of time.
The German parliament may cancel bookings to visit the glass dome on short notice. If this occurs, you'll receive a call - please provide your phone number.
Since all tours are subject to rescheduling or changes, please provide 1-2 alternative tour dates when booking. These will be taken into consideration if necessary, depending on availability.
There is the possibility to book a public tour in English.
Your tickets will be send within 24 hours!

Tickets sent by email!
Powered by Ticketbar